New Vista works in partnership with a national network of colleagues and organizations that have diverse expertise in curriculum and facility design.
​
Founded in 2006 by school architect and K-12 educator David Stephen, New Vista Design is a Boston-based consulting firm that works with a wide-range of school districts, charter management organizations (CMOs), architectural firms, and educational foundations across the U.S. and abroad to facilitate the design of future-ready, inquiry-based, and technology-rich school programs and the facilities that house them.
​
Meet David
Founder of New Vista Design
David Stephen's professional life straddles the worlds of education reform and architectural design. As an educator, he has 25+ years of experience partnering with some of the field's visionaries, working with schools nationwide to imagine, develop, and implement innovative school programs. As a licensed architect, he has over 15+ years of experience facilitating the architectural programming and design of forward-thinking school buildings. Not surprisingly, important and interesting connections happen at the intersection of these two disciplines. David speaks the "language of education" and the "language of design." This allows him to not only translate and interpret best practices in education and design for his clients, but to assist them in fully exploring the relationship between the two.
​
Through his work at New Vista Design, David spends approximately 30% of his time helping districts, schools, and teachers develop multi-year training initiatives in student-centered and inquiry-based curricula and programming. His experience as a teacher, program coordinator, and curriculum developer in a variety of project-based educational environments grounds this work. Another 60% of David's time is focused on partnering with districts, schools, and architectural firms to help facilitate the design of dynamic and forward-thinking school buildings. In this capacity, David has had the opportunity to collaborate with many pioneering architectural firms and school networks, and has played a key role in the architectural design and/or renovation of over 100 elementary, middle, and high school facilities across the U.S. and abroad. His projects include the design of facilities for the highly acclaimed High Tech High network of schools, Da Vinci Schools, Denver School of Science & Technology, Harlem Village Academies and Oracle Design Tech High School.
​
​Finally, David devotes approximately 10% of his time to engaging in research and advocacy efforts that aim to create and highlight best-practices and new models for school programs and buildings of the future. He has served since 2011 as the Co-Chair of Harvard Graduate School of Education's LEFT (Learning Environments for Tomorrow) Institute, and regularly facilitates workshops for educational changemaking organizations and projects such as Schools That Can, the Deeper Learning Network, Agency by Design, Nellie Mae Education Foundation, and A4LE (the Association for Learning Environments).
New Vista facilities projects include the nationally acclaimed High Tech High network of schools, the Denver School of Science & Technology, the Da Vinci School Network, and the Harlem Village Academy network of schools. Design awards for schools and programs that New Vista Design has partnered on include:
Where & when is the event?
---
This year's festival runs from 22nd-26th January with a temporary location change to Eyre Park for this year while works to enhance the Middleton Beach foreshore are underway.
---
What events are included in the 5-day program?
---
Twilight Markets on Eyre Park
Friday, 22 January 2021
Timings: 4pm - late
Midds Mutts Markets
Saturday, 23 January 2021
Timings: 9am – 1pm
Emergency Services Fun Day
Sunday, 24 January 2021
Timings: 9am - 1pm
Sunset Sets and Outdoor Movie
Monday, 25 January 2021
Timings: 5pm - late
Australia Day
Tuesday, 26 January 2021
Timings: 10am - 4pm
---
How can I get there?
---
People who aren't living with a disability are asked to park at Middleton Beach (along Flinders Parade), or at the Albany Golf Club and walk less than 500m to the event.
The City of Albany encourages you to travel smart to this event, and consider walking or cycling to avoid parking hassles. Additional bike racks will be available.
---
Are there accessible facilities?
---
ACROD parking is available via Garden Street behind the Middleton Beach Bowling Club. You will be able to access all the event festivities by crossing the footbridge over the Eyre Park lake. Accessible toilets are available at the Public Toilets which is right next to the All Abilities playground.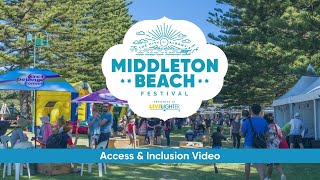 ---
How much does it cost?
---
All events are free entry. Please note some activities do have costs involved.
---
Can I bring my dog?
---
Yes, - in fact you are encouraged to bring your dog to the Midds Mutts Market!!
Dogs are to be kept on the lead and with you at all times.
---
Can I smoke at this event?
---
No, this is a smoke free event.
---
Is there EFTPOS?
---
There will be no ATM's available, however some food vendors and market stallholders do have card facilities.
---
What do I do if I require first aid?
---
There will First Aid trained staff and first aid kits will be available at the City's sea container.
---
What if I lose or find something?
---
See the Events Staff at the City's sea container.
---
How do I make sure I am doing my part to ensure this is a COVID safe event?
---
Prior to attending:
Download the free COVIDSafe app prior to attending
Download the free SafeWA app - digital contact register system.
Available: Apple App Store or the Google Play Store now.
At the event:
Scan the SafeWA QR code at the event site to check into the event. You are able to sign in guests on their behalf if they need help. This is a contactless register to assist us with contact tracing if required.
Take advantage of hand sanitizer stations
Keep a safe distance from other people
Stay home if you are feeling unwell.
---
Who are the sponsors for this event?
---
LiveLighter, Healthway, Lotterywest, National Australia Day Council, Road Safety Commission, Southern Ports, Development WA, Rio Tinto, and the Albany Advertiser.
For more information, head to our Event Sponsors page.
---
Who can I contact for more information?
---
City of Albany Events Team
6820 3000
events@albany.wa.gov.au
---
---
New Vista has collaborated on a wide-range of educational publications, including high school curricula and project-based learning guides, school case studies, and school architecture and design guides.
​
Architecture for Achievement: Building Patterns for Small School Learning

Eagle Chatter Press, 2008, in collaboration with Victoria Bergsagel and the Architects of Achievement team.
Henry Ford Learning Institute Design Resource Guide

HFLI, 2007, in collaboration with Concordia Architecture and Planning. Design guide that outlines and illustrates the academic and architectural priorities of the Henry Ford network of charter schools.
Dollars and Sense II: Lessons from Good, Cost-Effective Small Schools

KnowledgeWorks Foundation, 2005, in collaboration with the Dollars and Sense team. Makes the case for the cost-effectiveness of small schools, with new research and examples of what is working at 25 schools across the nation.
CityWorks: Exploring Your Community

The New Press, 1999, in collaboration with Adria Steinberg. A high school curriculum that engages students in community exploration, service, and development. Based on the "CityWorks" program at the Cambridge Rindge & Latin High School, which was a recipient of a1992 Ford Foundation Award for Innovations in State and Local Government.
​
The New Urban High School Practitioner's Guide
U.S. Department of Education (OVAE), 1999, in collaboration with the NUHS team. Case studies and best practices from six urban high schools using school-to-work strategies as a lever for whole school reform.
Seeing the Future: A High School Planning Toolkit

U.S. Department of Education (OVAE), 1999, in collaboration with the NUHS team. A planning process for schools to identify and work towards strategic design principles.
The VIA Project (Vocational Integration with Academics)

Cambridge Public School Department, 1997, in collaboration with Tamara Berman and Adria Steinberg. Strategies for integrating the best of vocational (hands-on) and academic (heads-on) approaches to teaching and learning.